Our staff is selected for their approach to children, teaching skills and teaching. The key in the selection of our full-time teachers and teachers of extracurricular activities is a passion for their profession, to work with children. We want children to be provided with excellent care by people who treat them as partners and in an individual way. To ensure the time spent in the kindergarten is interesting and prepared in an attractive way.
Our teachers choose a proven curricula, and the selection of proven curriculum to the children entrusted to the care who are never bored with joy exceed the thresholds of our nursery every day.
Teachers take part in regular training in order to explore innovative ways of working with children and improve their methodological skills. All this so that the children entrusted to us in our care are provided with an attractive modern curriculum and joyfully enter our pre-school every day.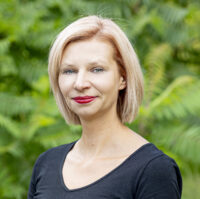 Monika Bajko
Pre-school director
Ms Monika started her professional work in a pre-school in 2008 and since then she has been cooperating with Warsaw pre-schools, both network and smaller ones. She has 12 years of experience working as a pre-school director.
Ms Monika enjoys the observation of children, their behavior, logic and directness. Working in this profession is a great passion, and observing the development of a child gives her a lot of satisfaction.
A graduate of the Świętokrzyska Academy in Kielce, where she completed three-year pedagogical undergraduate studies in the field of Early School and Pre-School Education with teaching English and the Pedagogical University of the Society of Universal Knowledge, where she obtained a master's degree in Preschool Pedagogy with Speech Therapy. In 2012, she completed a qualification course for Managerial Staff – Management in Education at the Teacher Training Center.
In the course of her work, she also improved on courses and training:
* Academy of Directors Trainer: Łukasz Bieliński How to communicate effectively in a difficult situation based on the model of the Nonviolent Communication by Marshall Rosenberg
* Directors Development Program Trainer: Anna Dobieszewska and Dominika Kanik-Kliczko 7-month development program for Kindergarten Directors
* Nazywanie świat Nazywanie świat – A different method of learning to write and read by Dr. Irena Majchrzak
* Glottodidaktyka 1st degree training Glottodidaktyka prof. dr. hab. Bronisław Rocławski
Privately, a mother of two sons, motherhood is her greatest challenge and adventure. He likes steeplechase, books and traveling.
Paulina
main teacher
Paulina is a graduate of Pedagogy with a specialization in Early School Education and Preschool Education at the Faculty of Educational Sciences at the University of Łódź. In addition, she completed first-cycle studies in the field of Sociology – Social Communication. In her diploma thesis, while studying as a teacher, she dealt with the historical aspect of raising children, focusing on the impact of post-war trauma on a child's development.
Paulina started her adventure with children while still a student, working as an assistant teacher in a kindergarten. Currently, he has eight years of experience in working with children, including four years as an educator at Happy Kids Academy. She is a cheerful and creative person. She enjoys little successes of children. In her opinion, it is worth putting a lot of effort into the work, so that later on the child's face you can see a smile and satisfaction with self-performed tasks. She is constantly trying to improve her workshop by participating in trainings and courses. In working with children, she uses various educational methods. Thanks to the use of Positive Discipline and Nonviolent Communication, she tries to understand children and equip them with life skills that will result in the future of a new generation that is aware of their feelings and behaviours.
Privately, she loves spending time actively, for years she has been passionate about mountain climbing, which gives her strength and helps in achieving life goals.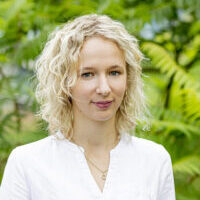 Kinga
main teacher
Kinga is a teacher of Preschool and Early School Education. She graduated from the University of Warsaw. Previously, she studied national security at the Military University of Technology. She enjoys being with children, accompanying them in learning new skills and building self-confidence. Being a teacher is a demanding job that gives a lot of satisfaction and joy.
Kinga likes reading psychology and education books, as well as NVC books. In addition, she loves listening to music, playing board games, cycling, good mood, summer in the countryside, grandma's broth and potted flowers that make her apartment green.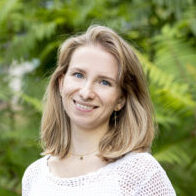 Aleksandra
main teacher
Ola has always felt under her skin that taking care of another person is her calling. Initially, she gained her experience by volunteering, caring for the disabled and working abroad as a carer for a man suffering from multiple sclerosis. However, over time, she returned to her childhood dream of imagining herself working with children. However, having no education in this field, but only willingness, understanding and a big heart for a little man – she became a nanny. Then she started working with the so-called difficult children from a family at risk of social exclusion. The above experiences taught her empathy and a lot of patience. With time, she graduated from pedagogical studies. Thanks to them, she gained the necessary theoretical knowledge and experience in working with children of all ages.
She is also  a certified art therapist, which allows her to conduct classes during which children can get dirty, free their creative expression and hidden emotions. She completed a course in music therapy and sensotherapy. And so, for 7 years of work, she has been following children and their emotions, sings and plays music, infects them with love for nature, awakens in children a fascination to explore the world and learn new skills.
Every day he smiles a lot, explores the secrets of dog behavior, walks in the forest and devotes a lot of time to his dog.
In the Happy Kids' Academy kindergarten she captivated everyone with her warmth, openness, cordiality and smile.
Karolina
special educator
Karolina is a special educator. She completed first-cycle studies in revalidation pedagogy (oligophrenopedagogy) at the Silesian University of Technology in Gliwice. During her studies, she also obtained the right to conduct computer science lessons and computer classes for children with intellectual disabilities. She was most interested in the subject of assisted and alternative communication (AAC), which she also devoted to her thesis. He is currently completing his master's studies in psychopedagogy at the University of Business and Health Sciences in Łódź. From the beginning of her professional career, she has been working with children and adults with autism spectrum disorders. From 2020, she worked in a non-public special kindergarten as a teacher's assistant and teacher, and then from 2021 as a supporting teacher – special educator at Happy Kids' Academy.
Apart from her professional work, Karolina is a certified modern dance instructor. Privately, she loves traveling, sports and dancing. He is interested in the issues of psychology, neurodidactics and interpersonal communication.
Suuya
English teacher
Hi, My name is Suuya. I am from Zambia. It was always a great dream of mine to live and work in a foreign country.
I have lived in Poland for four years, I live with my two sisters in Warsaw. My parents and the rest of my family lives in Zambia.
I have worked as an English teacher since 2018. Because, I have a passion for children. I am creative and ambitious young woman.
My friends and family say that I am a very funny and interesting lady with a good sense of humor. As soon as I meet new people, who are happy to meet me, I feel extremely comfortable with them. I believe friendship is one of the most important values in human life.
My hobbies are swimming, reading romantic books, listening to music, watching tv and mostly travelling. Because I learn a lot from travelling.
I love different kinds of food. But my favorite is Italian food. Because I think it's the best kitchen in the world.
I am also interested in pets, I love dogs. And I believe a dog, is a Man's best friend. Unfortunately I don't have one. Maybe in future.
I have a lot of ideas about my future. With all I already have, I know I am on the right path. And I will do my best to inspire others to live the way, they feel like living as well.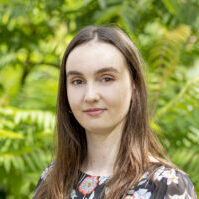 Iryna
English teacher
Iryna – I've been working with kids for more than 3 years now and it gives sense to my knowledge, which can be shared in a playful manner. I value my students and appreciate their trust, so trying to be empathetic and understanding is my goal. Therefore, creating a comfortable but challenging enough environment during the lesson is my main responsibility to provide students' growth.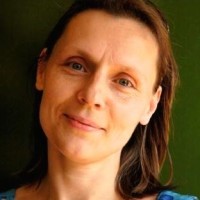 Kasia
rhythm instructor
Kasia is a rhythmics instructor, a graduate of the Academy of Music in Warsaw. She gained professional experience in nurseries, pre-schools, including integration pre-school, and in primary school, conducting rhythmic and music classes and exercises using the Good Start method (as part of the dyslexia prevention program). Contact with children throughout the period of their intensive development – from a toddler under two years of age to a student – was for Kasia an opportunity to learn about the needs of children of different ages, their reactions and behavior. Thanks to these experiences, during her classes she can support not only the development of children's musical abilities, but also their emotional and psychophysical development.
Privately, she is a wife and mother of five children. She enjoys reading, riding a bike, picking mushrooms and solving logical puzzles.
Vocational education:
Academy of Music Fryderyk Chopin in Warsaw
Major: Music Education
Completed courses:
• 16th National Music Workshops of the Carl Orff Society
• 14th National Music Workshops of the Carl Orff Society.
• 12th National Music Workshops of the Carl Orff Society.
• Active listening to music by Batti Strauss part. II
• The Development Movement Method by Weronika Sherborne part. AND
• Good Start Method part. III – supervision
• Good Start Method part. II
• Good Start Method part. AND
• Workshops "Understanding autism"
• Conference "A student with Asperger Syndrome in an inclusive class"
• Course: The use of music classes in the prevention of students with disabilities.
• Dance, movement and space in the four seasons of the year.
• Integration dances.
• Greek folk dances for everyone.
• Fairy-tale therapy workshops.
• Educational course for parents of children with ADHD.
• A course for summer camp educators. "
Marta
psychologist
She is a graduate of the Faculty of Social Sciences of the Catholic University of Lublin – MA in psychology, with a teaching specialization, with a pedagogical preparation. She participated in the LPP Erasmus program, studying at Radboud Universiteit Nijmegen in the Netherlands. She also completed pre-school and early school education.
As a psychologist, particularly interested in the area of ​​emotions and motivation, stress and anxiety, group roles and the specificity of the family system. At seminars, courses and trainings, she broadened her knowledge, among others, in the field of: diagnostics and coping with stress, diagnosing eating disorders, theories and forms of therapy of behavioral and emotional disorders in children and adolescents, cerebral correlates of autism or methods of therapy of patients with ASD (spectrum disorders).
She can boast of several years of practice. He gains experience working in kindergartens and psychological clinics, with both Polish and English-speaking people.
From the early years of childhood, she develops her natural ability to perceive reality in detail and make careful conclusions. She is based on the assumption that a skilfully conducted interview and psychological observation are the golden mean for the accurate formulation of hypotheses and the starting point for establishing a strategy of action in the face of the challenges faced.
A calm and happy parent is a happy child, which is why she focuses on cooperation with adults – parents and teachers, abounding in the exchange of insights.
Childish creativity, straightforwardness and joy give her satisfaction and enthusiasm for action. When working with a young person, every day is a valuable adventure, so it is worth opening your ears, eyes and heart to it.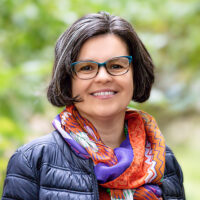 Beata
speech therapist
about
Beata is an active teacher for 11 years, and a certified teacher for 6 years.
She graduated with a specialization in pedagogy care – Educational land for the faculty of pedagogy Pedagogical University in Rzeszow, she also received her undergraduate degree with a specialization in pedagogy at the Catholic University of Lublin.
She is a graduate of postgraduate study speech therapy and language teaching at the Academy of Special Education in Warsaw.
For 6 years she is working professionally as a speech therapist with children at preschool age.
She is an animator and a member of the Polish Association of Educators and Animators Fun group since 2003.
In her work she is guided by the principle: 'Learning fun, fun learning', which is reflected in the wayshe carries out numerous classes and teaching aids and educational games, for which the children simply love.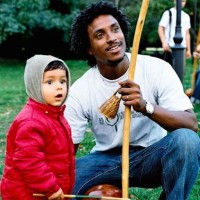 Ricardo Scooby Doo
Capoeira gymnastics instructor
about
Ricardo was born in Rio de Janeiro, and he has been capoeira training from 6 years of age. Contra- Capoeira Master. Actor and musician (playing the berimbau, atabaque, pandeiro, agogo), dancer Makulele and Samba. Dance practiced in Brazil since1987.
He created his own curriculum Capoeira for children. IMKA actor Theatre in Warsaw and he participated in the project, Germinal Mel ', by 2011. He Worked in the group Capoeira Liberdade as Professor in graduation Contra-Master.
Qualifications:
Contra-Master in Capoeira. Actor and musician (playing the berimbau, atabaque, pandeiro, agogo), dancer Makulele and Samba.
Practice since 1987 (in Brazil). Experience:
* The project, Germinal Mel '2001-2005
* Lasting 18 years working in the group Capoeira Liberdade, till 2011 as a professor, currently in graduation Contra-Master
* NGO "Corpo Movement", as Professor and Director of Capoeira. Asset Management
* Regular demonstrations in front of an audience, participation in films and other artistic projects
Education:
* 2004 – Course Teaching Children – Government
Foundation in Rio Esporte
* 2003 – Teaching Capoeira and Brazilian Folklore – Foundation in Rio Esporte
* 2002 – Physical Education / Capoeira