Our staff is selected for their approach to children, teaching skills and teaching. The key in the selection of our full-time teachers and teachers of extracurricular activities is a passion for their profession, to work with children. We want children to be provided with excellent care by people who treat them as partners and in an individual way. To ensure the time spent in the pre-school is interesting and prepared in an attractive way.
Our teachers choose a proven curricula, and the selection of proven curriculum to the children entrusted to the care who are never bored with joy exceed the thresholds of our nursery every day.
Teachers take part in regular training in order to explore innovative ways of working with children and improve their methodological skills. All this so that the children entrusted to us in our care are provided with an attractive modern curriculum and joyfully enter our kindergarten every day.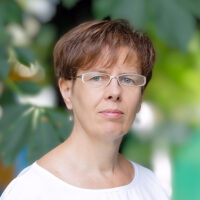 Beata Chrzanowska-Płatek
Pre-school director
For Beata working with your child is "every day to discover and to experience, it mobilizes motion to constantly search for and acquire new knowledge and skills, it is also a daily admiration to the world and that's why I like my job so much."
Beata is a certified teacher with 23 years experience in teaching. She graduated with a specialization in education at the faculty of pedagogy at the University of Warsaw. She also completed postgraduate studies in "Politics and Education Management".
Recognizing the need for change and looking for ways to achieve a modern model of kindergarten, she participated in the "Kindergarten during the change" organized by the Society for the Development of Children Activity "CHANCE". Captured by Ms. Beata's knowledge and experience it allowed her to incorporate as a co-author in the creation of "The Elephant lucky man in the world", the aim of which was to prepare the child to be happy. Developed project, leading to transformations and changes in the kindergarten, has been incorporated into the educational activities by the institution.
Perfecting her abilities she has completed:
• "Three baby steps into the future"
• Working method research projects
• Mathematical Education of children in the preschool and early school
• Communication with parents of children in kindergarten
• How to communicate well with children and parents
• A six-year old starting primary school – school maturity and the child's adaptation to school
• Diagnosis using SGS in preparing children at the age of 5 – years into study
• School for parents and educators – parenting skills workshops part I, II "Without Defeats"
• Working with a very talented child
• Stimulate creative thinking in children of preschool age, how to awaken the childs genius
• Motion movement – Method of creative development theme by animators "KLANZA".
• Development of emotional intelligence in children – grade I
• Development of emotional intelligence in children – stage II
• Privately, the proud mother of a wise 5th-year student of Psychology. She loves listening to loud music and traveling by car to interesting places in Poland and Europe.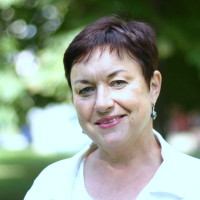 Ewa
head teacher
Ewa is a teacher with 12 years experience working with children. She is a cheerful person who likes contact with people. These features as well as knowledge and skills in pedagogy and psychology allow Eve to not only guide the children to acquire new knowledge and skills, but also to be the perfect companion every day. The warm disposition and openness to the needs of others is a guarantee that Ewa understands each child and will support their self-esteem.
Ewa is a graduate of the Teacher Training Institute in Warsaw.
She graduated from the courses:
• In the field of language teaching and learning pre-integrated / license /
• "Zippy Friends" – supporting the child's emotional development
• "Preparing six year old children to start school"
• "Activating methods and forms of work in classes with children"
• "Fairy tale therapy as a modern method of helping children in pre-school and earlier'
• "The Children mathmatics" -w / g E.Gruszczyk-Kolczyńska
• "Everything comes to life – children's rights in light of the views of pedagogical Janusz Korczak"
• Development of emotional intelligence in children – stage I
• Development of emotional intelligence in children – stage II
• Good Start Method
Acquiring this knowledge and skills Ewa uses it in her daily work with the children in such a way as to encourage them to act and to be creative to explore the world.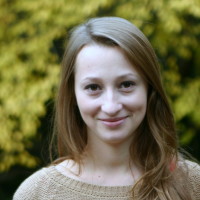 Kasia
head teacher
Kasia is a very sensitive person, warm and caring. In her every action she shows a great commitment and ingenuity. In addition, she has a positive attitude towards working with children; she quickly makes contact with the youngest preschoolers.
Kasia completed her undergraduate degree in Warsaw University Faculty of Education Pedagogy with specialization in general pedagogy and care and education. Master of Education realizes the specialty of teaching in preschool education and early childhood education at the University of Warsaw.
Prior to joining Happy Kids' Academy, Kasia gained her first professional experience working with children as a babysitter and as a volunteer in the Public Center of Adoption – Guardianship in Warsaw and the Society of Friends of Children in Focus Environmental and Education.
• Development of emotional intelligence in children – stage I
• Development of emotional intelligence in children – stage II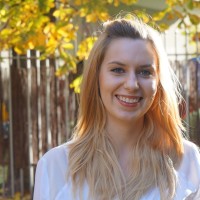 Ola
main teacher
about:
Ola is a patient, caring and persistent person who pursues her goals. In her work, she shows great empathy and understanding. She tries to make the children feel good in her environment, and thus want to take up the activities and games she proposes that affect their development.
Ola graduated from BA studies in the field of special education, specializing in rehabilitation pedagogy and inclusive education at the Academy of Special Education in Warsaw. Thanks to the knowledge gained there, she can adapt her working methods to each child, taking into account her personal abilities and aspirations. She studies her master's degree at the Faculty of Pedagogy of the University of Warsaw in the field of early school and pre-school education. Before starting her studies, she gained her first experience working with children, working as a babysitter.
Privately, Ola is a lover of American football and volleyball. In her free time she develops culinary.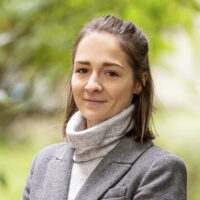 Sylwia
main teacher
Sylwia is a graduate of the Academy of Special Education, she graduated from preschool education. Her second specialty is rehabilitation. The combination of two different directions gave her the ability to find solutions in difficult situations in which children and their families often find themselves. She started gaining her first experience with children in high school, volunteering at Klub Ośmiu, which organized various types of events for disabled youth.
The trainings she did include TUS – social skills training and NVC – non-violent communication which she uses at her work. During various webinars, he broadens her knowledge in the field of sensory integration. At work, she is guided by empathy, treating children as her own, and her favorite method of work is the pedagogy of play.
Privately, a mother of two wonderful girls, a dog lover, supporter of active recreation. She often puts her culinary passion into activities with children. Recently, she discovered a passion for needlework, which she tries to infect her daughters with. She is an energetic person with a head full of ideas that she willingly implements. Both in life and in work with children, it is assumed that the word "impossible" does not exist.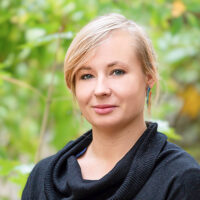 Agata
main teacher
The first course that Agata graduated from at the Faculty of Special Education Academy Maria Grzegorzewska in Warsaw was an artistic education in the field of fine arts with a specialization in oligophrenopedagogy. Then she obtained a master's degree in art in art therapy. During this period, she completed a number of teaching internships in pre-schools, primary schools and at the Youth Palace in Warsaw. The choice of the latter educational institution was not accidental, as in her youth she attended painting classes there for 8 years. When she was 15 she became an assistant instructor and supported Ms Saida Siczek in conducting classes with children of all ages.
Her professional experience was largely based on work in a pre-school, which is why she decided to complete postgraduate studies at the same university, majoring in pre-school and early school education. As she is interested in teaching in the humanistic pedagogy, with an emphasis on empathy and the development of emotional intelligence in children, she chose to work in a pre-school with elements of Montessori pedagogy and non-violent communication. She enriched her education with a one-year NVC course, which gave her a deeper insight into understanding children's emotions and her own feelings.
"Happy Kids Academy is a place where I can benefit from my experience and an institution where I fully find myself as a teacher, and above all as a human being".
Agata's interests are related to art and people. As a hobby, she researches information on psychology, sociology and modern trends in pedagogy.
Privately, she is a mother of an energetic 5-year-old daughter whom I am trying to raise as an independent, wise person who can talk and overcome all difficulties so that she understands that her freedom ends where the border of another person begins.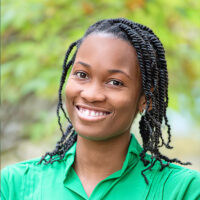 Mfon
English teacher
My name is Mfonobong Obot. It may be a tongue twister for some, that's why I go with Mfon, also pronounced as "HmmFUN". I am a student at SGGW. I was born and raised in Nigeria. Ibibio is my mother tongue and its spoken by a minority in the Southern part of Nigeria. Even though Nigeria is a multilingual country, the official language is English.
I am here at Happy Kids' Academy as an English Teacher. Coming from a multilingual background, I know what it means to learn a foreign language that's why I try to explain to my students how to learn the language not memorize the phrases or grammar structure. My goal is to get my students to talk because communication is important. One can't learn a language if they don't use it.
Gloria
English teacher
Jambo! My name is Gloria and I am more than excited to be working with the Malenstwa group. This is my second year working as an english teacher. I moved to Poland to pursue nursing and currently it is my second year. I am Kenyan by birth and have both English and Swahili as my native languages. I enjoy travelling, creative writing and most of all, adventure seeking.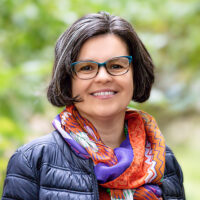 Beata
speech therapist
Beata is an active teacher for 11 years, and a certified teacher for 6 years.
She graduated with a specialization in pedagogy care – Educational land for the faculty of pedagogy Pedagogical University in Rzeszow, she also received her undergraduate degree with a specialization in pedagogy at the Catholic University of Lublin.
She is a graduate of postgraduate study speech therapy and language teaching at the Academy of Special Education in Warsaw.
For 6 years she is working professionally as a speech therapist with children at preschool age.
She is an animator and a member of the Polish Association of Educators and Animators Fun group since 2003.
In her work she is guided by the principle: 'Learning fun, fun learning', which is reflected in the wayshe carries out numerous classes and teaching aids and educational games, for which the children simply love.
Marta
psychologist
She is a graduate of the Faculty of Social Sciences of the Catholic University of Lublin – MA in psychology, with a teaching specialization, with a pedagogical preparation. She participated in the LPP Erasmus program, studying at Radboud Universiteit Nijmegen in the Netherlands. She also completed pre-school and early school education.
As a psychologist, particularly interested in the area of ​​emotions and motivation, stress and anxiety, group roles and the specificity of the family system. At seminars, courses and trainings, she broadened her knowledge, among others, in the field of: diagnostics and coping with stress, diagnosing eating disorders, theories and forms of therapy of behavioral and emotional disorders in children and adolescents, cerebral correlates of autism or methods of therapy of patients with ASD (spectrum disorders).
She can boast of several years of practice. He gains experience working in kindergartens and psychological clinics, with both Polish and English-speaking people.
From the early years of childhood, she develops her natural ability to perceive reality in detail and make careful conclusions. She is based on the assumption that a skilfully conducted interview and psychological observation are the golden mean for the accurate formulation of hypotheses and the starting point for establishing a strategy of action in the face of the challenges faced.
A calm and happy parent is a happy child, which is why she focuses on cooperation with adults – parents and teachers, abounding in the exchange of insights.
Childish creativity, straightforwardness and joy give her satisfaction and enthusiasm for action. When working with a young person, every day is a valuable adventure, so it is worth opening your ears, eyes and heart to it.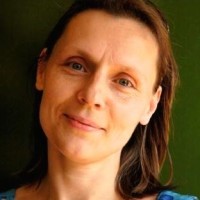 Kasia
rhythm instructor
Kate is a rhythm instructor, a graduate of the Music Academy in Warsaw. She worked in nurseries, kindergartens, including integration and schools, leading classes' rhythmic music and practicing the method of 'Good Start' (under the prevention of dyslexia). Contact with children throughout their period of intense development – from a toddler less
than two years to a student – for Kate the opportunity to meet the needs of children of all ages, her reactions and ways of behaviour. Through her experience in her classes can help not only the development of the children's musical abilities, but also their emotional and psycho-physical development.
Privately she is married and a mother of five children. She likes to read, ride a bike, gather mushrooms and solve logic puzzles.
Vocational education:
Academy of Music. Frederic Chopin in Warsaw Direction: Musical Education
Completed courses:
* Sixteenth National Association of Music Workshop of Carl Orff
* XIV National Workshop Carl Orff Musical Society. * XII National Workshop Carl Orff Musical Society. * Active listening to music by Strauss Batti part. II
* Developmental Movement Method by Veronica Sherborne part. AND
* Good Start Method parts. III – the supervisory * Good Start Method parts. II
* Good Start Method parts. AND
* The workshop "Understanding Autism"
* Conference: "A student with Asperger Syndrome in conditions of class integration"
* Exchange rate: The use of music classes in the prevention of students with disabilities.
* Dance, movement and space in four seasons. * Dances integration.
* Greek folk dances for everyone.
* Fairy tale therapy workshops.
* Converted education for parents of children with ADHD.
* Course for camp counsellor.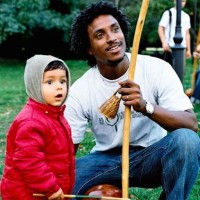 Ricardo Scooby Doo
Capoeira gymnastics instructor
about
Ricardo was born in Rio de Janeiro, and he has been capoeira training from 6 years of age. Contra- Capoeira Master. Actor and musician (playing the berimbau, atabaque, pandeiro, agogo), dancer Makulele and Samba. Dance practiced in Brazil since1987.
He created his own curriculum Capoeira for children. IMKA actor Theatre in Warsaw and he participated in the project, Germinal Mel ', by 2011. He Worked in the group Capoeira Liberdade as Professor in graduation Contra-Master.
Qualifications:
Contra-Master in Capoeira. Actor and musician (playing the berimbau, atabaque, pandeiro, agogo), dancer Makulele and Samba.
Practice since 1987 (in Brazil). Experience:
* The project, Germinal Mel '2001-2005
* Lasting 18 years working in the group Capoeira Liberdade, till 2011 as a professor, currently in graduation Contra-Master
* NGO "Corpo Movement", as Professor and Director of Capoeira. Asset Management
* Regular demonstrations in front of an audience, participation in films and other artistic projects
Education:
* 2004 – Course Teaching Children – Government
Foundation in Rio Esporte
* 2003 – Teaching Capoeira and Brazilian Folklore – Foundation in Rio Esporte
* 2002 – Physical Education / Capoeira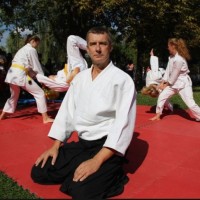 sensei Roman
Aikido instructor
about
Grade: 6 DAN SHIDOIN CAA POLAND
A prominent Aikido instructor and teacher. Martial arts field since 1977.
* 1977 – joining the 'shotokan' karate section
* 1978 – joined the Aikido section in Wałbrzych. Training and seminars under the direction of Marian Osinski, the originator of aikido movement in Poland, and instructors from abroad.
* 1982 – completing the instructor course
* 1984 – trip to Warsaw for higher education
* Since 1984, the promotion and development of aikido in Warsaw
* 1990 – one of the main founders of the Polish Federation of Aikido, since the inception of the
organization serves as the important organizational functions
* 1991 – graduation – Higher School of Special Education, Faculty of Revalidation and Rehabilitation, specializing in the rehabilitation of socially maladjusted
Since 1991. – Founder and President of the Center Aikikai Aikido in Warsaw, PFA member clubs and UKS Aikikai Aikido Center
* 1986 – obtained a master's degree 1st dan from Toshikazu Ichimura (Warsaw)
* 1988 – obtain a master's degree 2nd dan of Christian Tissier (Paris)
* 1991 – obtain a master's degree 3rd dan from Yoshimitsu Yamada (New York)
* 1996 – obtain a master's degree 4th dan from Yoshiaki Yokota (Warsaw)
* 2002 – obtain a master's degree from 5th dan Moriteru Ueshiba
(Tokyo)
* 2012 – obtain a master's degree 6th dan from Moriteru Ueshiba (Tokyo)
In the years 2002 -2004 Athlete of the Year Polish Foundation 'Budo'
Since 2005, the President of the Polish Aikido Federation, Member of the Examination Committee PFA
In 2007/2008, aikido instructor in the Government Protection Bureau
Since 2006 he is Collaborating with the School Stunt Brand Solka as security consultant stunt
Since 2011 he is President of the Foundation KAGI
Founder and President of the Center Aikikai Aikido Poland
* Multiple representing the Polish Aikido in the international arena, including In 1996 rw Japan's Congresses of the World Federation of Aikido in Katsuura, Tanabe, Tokyo
* The annual trips to Aikido Headquarters in Tokyo and other countries in order to improve professional qualifications.
* Intensive instructor and pedagogical work with children, youth and adults (including people with developmental disabilities).
* Care merits of the many clubs in Poland and abroad (Latvia, Ukraine, Russia, Moldova, Czech Republic, Slovakia)
Interests: photography, sailing, snowboarding,hiking, archery, popular scientific literature.